When it comes to making decisions online, especially when buying something on an eCommerce website, there are several different factors that affect customer purchasing behavior.
One of the most important factors is social proof, also known as informational social influence. Social proof is a function of psychological and social factors that drive people to make decisions based on other people's influence. It operates off the principle that people around you may know something that you don't.
As important as social proof can be when it comes to pushing people over the edge to make a purchase, it's an underutilized tactic in the field of eCommerce. There are many different ways to incorporate social proof in eCommerce and online store reviews are an excellent application.
Let's take a look at how online store reviews can act as valuable social proof for eCommerce.
A Deeper Look at Social Proof
Aside from being a psychological phenomenon, social proof can be described as the validation of a product or service's quality, at a given value. Or, in other words, is the product worth its price?
If customers can see that your products or services are in high demand, shared through online store reviews (and other testimonials), prospects will assume that you must be delivering something good—social influence takes over decision making.
Other people's decisions can drive customers into making the same purchasing decision because they believe that these people know more than them about the products or services. This translates to a level of trust in the person's ratings or online store reviews, knowing that the reviewer is speaking from first-hand experience over the given product or service.
Leveraging social proof works not only to improve sales but also brand identity and your eCommerce store's reputation.
The Different Types of Social Proof
There are multiple ways that prospective buyers can be influenced by social proof—not just online store reviews:
Testimonials: Short statements that come from previous customers or clients that are quoted and posted on the brand's website. Testimonials are inherently positive because they're chosen by brands to convey a certain image. Testimonials should come from your best and most loyal customers.
Customer reviews: Testimonials and customer reviews are often confused as the same thing. The difference is that customer reviews exist off of a company's website (think Yelp, Google, blogs, etc.) and are hard to influence or change. Testimonials are objective opinions of customers about your products or services that can be either positive or negative.
Media Coverage: This type of social proof refers to a paid advertisement through large media outlets: newspaper, tv commercials, talk shows with product placements, and more of the like.
Influencer Endorsement: Another a form of paid advertising but instead of using media outlets, this form of social proof involves paying influential people/public figures to endorse products and services. Social media influencers represent a new take on the classic celebrity endorsement but can be just as effective (if not more) for a significantly lower price. According to Google, 70% of teenage YouTube subscribers have more trust than more traditional celebrity influencers.
Customer Ratings: Online store reviews/ratings can be either found on review sites or directly on the given eCommerce website (like Amazon). Typically, when customers are writing reviews, they are also asked for a product or service rating, usually from 1 stars to 5 stars. Star ratings provide an additional level of communicating an experience without having to say a word.
Customer Ratings As Valuable Social Proof
Online store reviews and ratings are becoming popular in the online business industry. Incorporating a rating widget is a simple way to add an element of social proof to your eCommerce website.
According to Vendasta, about 92% of consumers read online store reviews. Furthermore, 68% of consumers say that positive reviews make them trust a local business. Specifically, a "star rating" is the number one factor used by consumers to judge a business.
It may seem simplistic, but sometimes a star rating can get the point across in a way that's more efficient than a text review on its own. For best results, allow customers to give online store reviews with both star ratings and text reviews.
Additional Benefits of Customer Ratings
According to a report by Yotpo, products with an average rating of 5 stars make up 54% of orders and 40% for products with an average rating of 4 stars.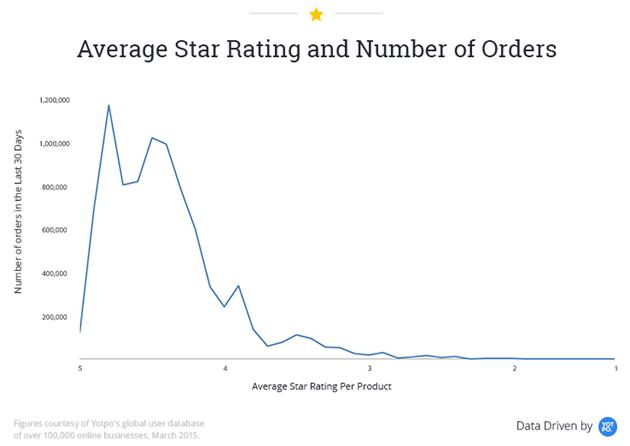 Customers always consult reviews and ratings before buying a product. It's your choice whether to keep this process on your website or if you'd rather send customers elsewhere for this information.
Though the idea of star ratings is typically associated with experiences that have been paid for, it's interesting to see applications for use when it comes to online content consumption experiences. You might also consider implementing a rating system on individual blog posts, communicating the value of content to readers.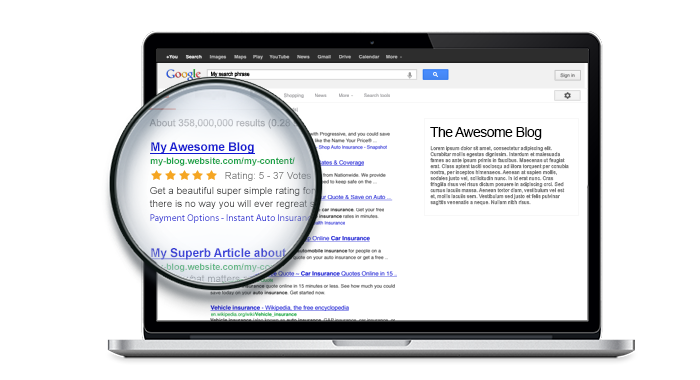 Star rating systems not only increase conversions but also increase reach and traffic—especially coming from social media. Facebook is one major social network that implements the use of reviews and ratings on business pages. Page administrators can toggle this feature on or off, but its absence is often seen as questionable.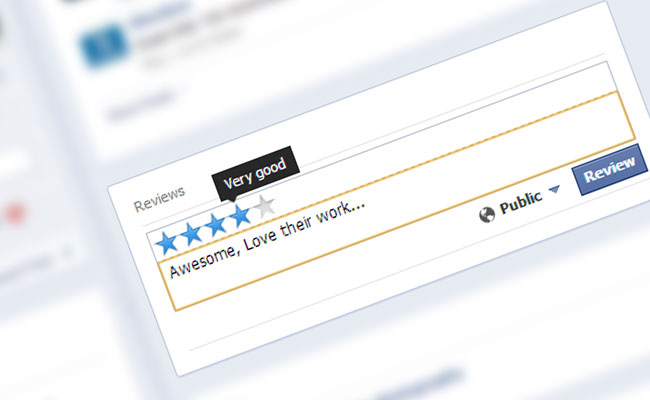 If you're still wary about opening the can of worms that is online store reviews on your eCommerce website, think about the potential applications for customer service. By enabling this functionality on your website, it means that you're giving your customers the opportunity to be heard: whether they have something nice to say, or not. Because of this, it's also a great way to monitor and measure customer satisfaction—a valuable practice for improving your products and services.
How Online Store Reviews Act As Valuable Social Proof for eCommerce
Encouraging customer ratings and reviews is beneficial to both consumers and your business.
Customers can use previous online store reviews and ratings as a way of measuring how much they can trust a company, while being reassured that they'll have a voice if anything goes wrong during their own experience. eCommerce companies can then make use of these reviews and ratings as way of measuring customer satisfaction, potentially finding new testimonials, and becoming better as a business, overall.
Negative ratings might sound scary, but it's this type of feedback that makes a company seem more realistic and natural. Companies that do not have any single complaints are more questionable.
If you're ready to start using a rating system for your WooCommerce store, Shopify shop, or any other eCommerce platform, the RatingWidget is the easiest way to get started.